About Wendy's Soy Wax Candles
Wendy started making candles in 2010 as a hobby, making candles for around the home, and giving a few away to family and friends.
Then someone suggested she start making more and selling them at the local markets.
Fisherman's Road market was the first and only market for several years, establishing her brand as a candle style. In 2014, Wendy opened up a stall at Eumundi Pavillion Market, so her selling days were Saturday, Sunday and Wednesday.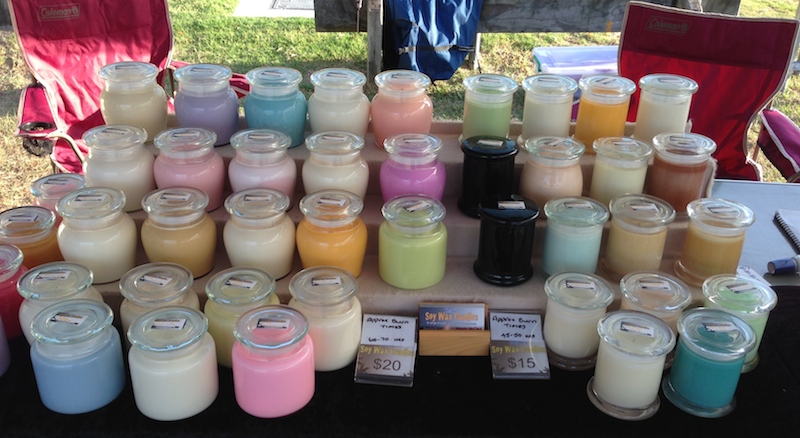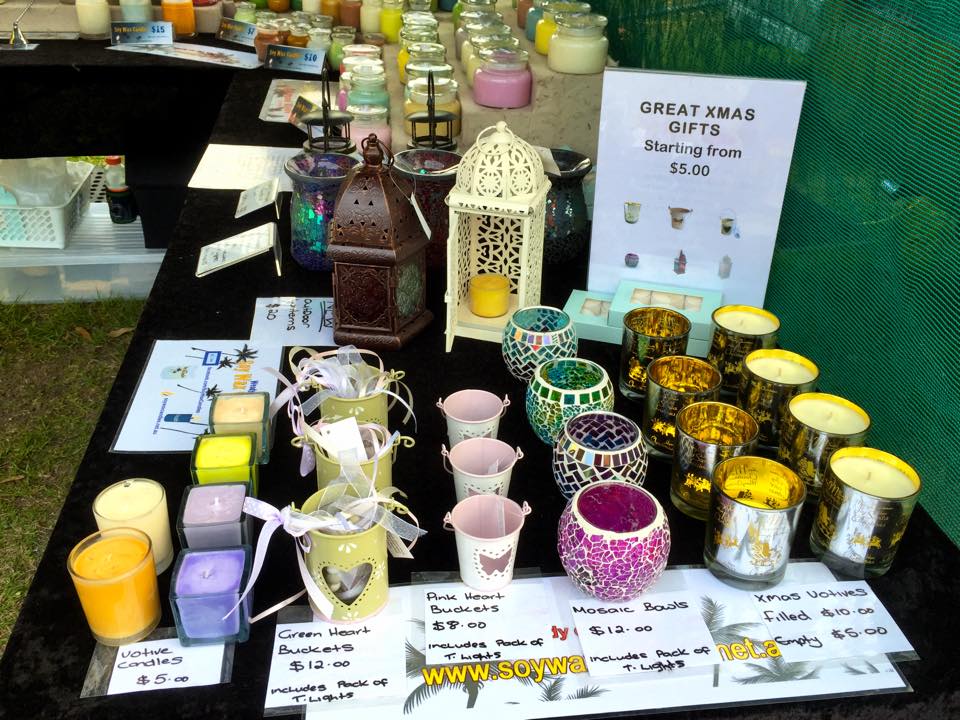 Wendy moved several times, including a period in the shop with her friend and Photographer Kellie Parry; she moved from Eumundi to Yandina Market in 2016 and finally giving up the Saturday market as the Bli Bli shop opening neared.
In 2018, in August, the Bli Bli Village Shopping Centre began trading, and Wendy opened her store. 
In 2021, she revisited the challenges of lockdowns and the pandemic drew the business back to the garage at home. Refilling jars and containers for all her regular and new clients.
Clean Burning Soy Wax Candles
One of the most famous benefits of soy candles is how clean they burn. Soy wax doesn't produce black soot as paraffin does. While some might say "no soot", it's actually "very little soot". Everything that burns puts off smoke, and soy candles are no exception. However, the amount of smoke released from soy wax is so minimum there are very few that notice it.
If your candles leave soot, even a little, it could be that it's not pure Soy Wax; maybe a Soy / Paraffin mix may have been used. To the best of Wendy's knowledge, her wax is pure soy wax  Another reason might be the wicks used. Even as Candle-Talk says lead is no longer used in wick manufacture, there can be some zinc that can smoke. Wendy only uses cotton candle wicks, although special orders are taken for candles with "wood wicks". These burn with a crackle & popping sound and can be soothing when burning your candles.
Cost Effective
You may be surprised by this, but soy wax candles can be more cost-effective than paraffin, not only in quality but in quantity too. Soy not only burns cleaner but slower too. A soy candle can burn up to twice as long (sometimes even more!) than paraffin, giving you twice the candle
Smell Nicer
Strange terminology, but soy wax holds the scent longer and better (without the "fuel smell" of paraffin). Also, when burning, the scent hangs in the air, and a lot less scent is needed in the manufacture and making of the candles.